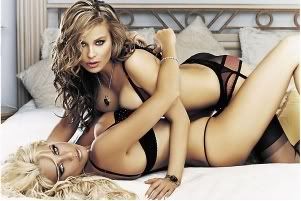 ~~~~~~~~~~~~~~~~~~~~~~~~~~~~~~~~~~~~~~~~~~~~~~~~~~~~~~~~~~~~~~~~~


Shane from You Go Ahead And Keep On Believing That said:

"My question for you is this...

Since it's a popular fantasy of men to wish about having sex with 2 lesbians (or at least two women) what is the popular fantasy for real lesbians?"

Hi Shane,
I can only speak for myself, but I like role-playing. You know, Sexy Girl Plumber and Horny Housewife, The Professor and Ginger and the old "Is The HandyGirl Here Already? I'm Still In My Nightgown!" So, we kinda make those fantasies come true.

I have some bondage fantasies, but I'm not that crazy about playing them out. I keep those in my head. I've had some S&M fantasies, but they didn't turn out so well. And occasionally, I have the man fantasy.

There, I said it.

It's only a fantasy, because honestly, I hate whiskers. HATE. THEM. Even on Patrick Dempsey and Keith Urban.

What are YOUR fantasies? Everybody, please. Not just the lesbians. What TURNS YOU ON in the depths of your brain where no one else can look?