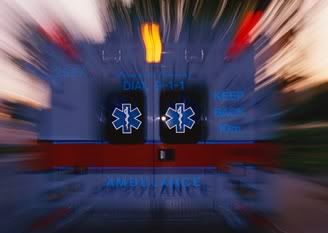 Through my hazy eyes, I see a firefighter. He's over me. Busy. Much later, I see him again. I'm in an emergency room. On a hard bed. He asks, "Boyfriend troubles?" I shake my head no as tears roll down the sides of my face. "Girlfriend?" I nod. My heart sinks a little lower as I realize that I've failed. I'm still here.

A nurse stomps in rushing around and hands me a bottle of something. Says that I must drink it. It will taste awful. But it must be done. It's charcoal to absorb what's in my stomach. What I PUT in there to get rid of me. It's like drinking mud. Undoing mud of what I've done. But I do it because she told me to. I've always tried to be good.

This is not what I wanted. The nurse thinks that I wanted attention. That I was crying out for help. I wasn't. I didn't want any more help. I didn't want attention from anyone. I just wanted a way to go. To be gone. To finally wither inward into nothingness.

She treats me as if I've personally offended her. Nothing nice comes from her in word or deed. She's made her point. I'm an inconvenience. She forces the tube down my throat to suck out the contents of my stomach. I feel the suction on the inside of me. It feels like a forced vomit. But the tube prevents the awful taste of it.

I'm so sorry. So very, very sorry. Not for what I did. But that it didn't work. I'm sorry that I'm still here and that I'm her problem.

Then I'm gone again.