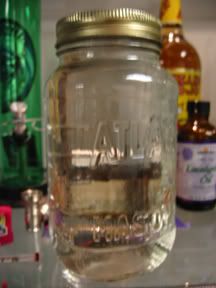 It has been a couple of years coming. Things have gotten worse and worse. It seems as though there is no way out of any of it. No light at the end of my tunnel. I have taken it and taken it and taken it until I am full of hopelessness and agony and I can't stand one more day on this planet. I don't care where I go, I just don't want to be HERE anymore. Don't want to live MY life anymore. Don't want to be ME anymore.

I have great friends in the Clinical Psy program with me and they know I'm down. We talk about it. And I let them think they help. My girlfriend, Diane doesn't know what to do besides love me. And frankly, it's not enough. I need something more. But I don't know what IT is.

I set the pills down on the kitchen table that I've eaten at since I was 7 and head to the bottom kitchen cabinet by the phone. That's where Mother hides the liquor. There is plenty there since neither of them drink much. It's mostly for friends and holidays. I find a quart mason jar of shimmery clear liquid. Welcome to the South. A quart of moonshine makes a great gift.

I remember that it's the Fourth of July. Just 15 years prior, when I was ten, I was baptized into the local Baptist church. I was saved and I'll die on the same day.

Damn, it's like jet fuel. I take the pills in three swallows and force the rest of the moonshine down. I'm drunk before I even finish the moonshine. I throw my head back to get the last drop and set the jar down, "Ok God. Let's see you get me out of this." I know it can't be done. I've taken enough moonshine to prevent me from asking for help and the pills will finish me off. Silly to even say that. But I want the last word. God surely isn't going to have it.

I sit down in the easy chair that my Mother watches TV in to let things take their course. I know she'll be sad. I'm her only child. But at the same time, other memories rush forth. Asking her to play and being refused because her "show" is on. Being whipped too hard. Desperately wanting to be understood. Always feeling like the black sheep. I close my eyes and know it will only be a moment.

The phone rings. In my drunken stupor, I answer it as it's sitting right beside me. It's Suz, an ex girlfriend. Her girlfriend is a nurse and they are my best buddies. I'd told her that I was going to be out of town this weekend, why is she calling me. And here? Why's she calling me here?

I don't even know what I'm saying. Just answering and being polite. She knows something's wrong. Shit. She gives the phone to her girlfriend, Kim. I ask if she knows what diazepam is and she does.

That's the last thing I remember.