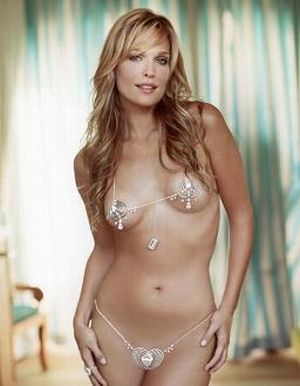 My virtual friend Kelly over at Keeper of the Sanity tagged me. I'm not tagging anyone. But if you wanna do it, I'm going to allow it. And for those of you who don't give a flip about reading below, here's a $30 million dollar bikini to look at today.

1. What was I doing ten years ago?
I was 32 and in the first year of a relationship of my Ex, The Redneck. I was sad, broke and lonely. In October of that year, she would hit me on my birthday. I would believe her when she said she wouldn't do it again. I would forgive her. Try to trust her and fail. And eventually be totally disillusioned with her. If someone tried that with me now, at 42, I would kick their ass and wipe the floor with them. (I talk big.)

2. What are five things on my list to do today?
Reconcile the office's bank statement. Dammittohell, I can't find $580.60!
Eat healthy.
Clean the house.
Cardio
Spend 90 minutes at the gym with this guy: Trainer Extraordinaire

3. Snacks I enjoy?
Anything chocolate.
Anything sweet.
Anything fattening.
Is it a wonder I'm plus sized?


4. Things I Would Do If I Were A Billionaire?
Breathe deeply without a care in the world.
Pay off the debt and buy the new house we're looking at.
Help everyone who didn't ask me for money.
Hire my best friend to tend my pool so she wouldn't have to work and we could talk whenever we wanted!


5. Three of my bad habits?
Doing the work first and the fun last. (I'm gettin' better, tho.)
Expecting too much out of others.


6. Five places I have lived?
Nashville, TN
Murfreesboro, TN
Smyrna, TN
Cookeville, TN
Antioch, TN
Now you know why I like to travel!

7. Five jobs I've had?
Comdata Customer Service Rep.
Commissioned Shoe Sales at Sears~ talk about the perfect place to meet women!
Management Consultant
Leasing Consultant
Office Manager

8. How did you name your blog?
It just came to me in a moment of brilliance.